Renew your Space with COREtec Flooring in San Marcos, CA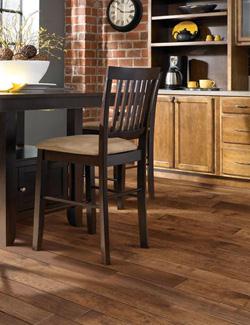 The floor is one of the main components of your home. It's an element which sets the tone of the room and ties your home together. When you are making a choice which is that important you need to consider a variety of factors.
Think about where the flooring is going to be installed and the conditions it will face. Is it going in a high-traffic area or one which gets exposed to the unique pressures presented by children and pets?
Regardless of where in your property you wish to install the new product, COREtec Flooring in San Marcos, CA, is up to the task. These floors come in a broad range of styles to match any setting in a home or business. They are durable, easy to install, maintain, and clean.


Up to the Challenge
COREtec luxury vinyl planks are engineered to face up to all the challenges placed upon them. Spills and mud are shrugged off with ease, and these planks don't warp or buckle when they get wet. Our planks are made of multiple layers from a transparent wear layer on the top to a design layer to the COREtec structure to the cork underlay. All of this comes in a package which is available in a broad range of finishes and sizes. At our flooring showroom, we have planks in widths from 5 to 7 to 9 inches.
The beauty of COREtec vinyl flooring, apart from its aesthetic appeal, is its long-lasting quality. Thanks to special construction techniques, the vinyl we offer at Legacy Flooring is going to provide years of low-maintenance use. All it requires is a bit of sweeping and the occasional pass with a damp cloth or mop, and that's it, you're done. Our vinyl is available in both planks and tiles.
Don't worry when it comes time to install the brilliant new flooring you've chosen for your home or business. Instead of attempting to do it yourself, or seeking out a contractor on whom you hope you can depend, turn to our professional installers. They are up to the task of installing your waterproof floors in any location. Our team makes sure the size and fit are flawless for years of use and beauty.



Contact us to learn about all the flooring options we provide. We proudly serve customers in San Marcos, Carlsbad, Escondido, and Oceanside, CA, plus the surrounding areas.