Luxury Vinyl Flooring in San Marcos, CA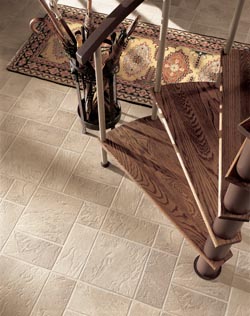 You do not have to compromise on flooring for your home – not when you choose luxury vinyl flooring in San Marcos, CA. With this option, you can have it all – beauty, style, durability, and practicality. Come into our flooring showroom to see samples of our extensive selection of brand-name luxury vinyl tile and plank. Our most popular brands include COREtec, Shaw, Armstrong, Spotlight Values and Naturcor. We provide easy-care resilient flooring that requires no maintenance.
Easy Upkeep for Luxury Vinyl Tile
Imagine tile that is lightweight and cost-effective and needs no grout. What you are thinking about is luxury vinyl tile. This flooring is made to be as easy on the eyes as it is for upkeep. With advanced embossing techniques, LVT has all the details of the ceramic tile you love, but only needs occasional dry and damp mopping to look fabulous.
This manufactured flooring is as tough as it is handsome. It resists scratches and scuffs, as well as water. This flooring never needs to be waxed. Luxury vinyl is the ideal flooring for busy families and high-traffic areas. Children and pets are welcome when your flooring is luxury vinyl tile or plank.


Resilient Flooring – A Perennial Favorite
Resilient flooring is a favorite of our customers for a great number of reasons. This flooring has proven itself a favorite for homeowners for many years. As tough as it is beautiful, resilient vinyl is better than it has ever been thanks to improvements in manufacturing.
Vinyl is available in a greater number of appealing styles that range from realistic looking hardwood and tile to artist-inspired patterns. This type of vinyl flooring comes in large sheets of 6' and 12' with two different backings – felt or fiberglass. Felt sticks directly to the subfloor, while fiberglass offers a cushiony feel underfoot.


Ask the Experts for Luxury Vinyl Flooring Installation
For the best results, we recommend professional luxury vinyl flooring installation. Once you have decided on flooring that matches your décor, we schedule an appointment with a team of professional installers. These experts have years of experience, as well as extensive knowledge of the proper methods for installing different brands and types of vinyl flooring. Let them worry about the installation while you relax. We know you will be pleased with the results.
These installers make sure to start with a clean and dry surface. They measure carefully and lay each piece of vinyl with precision, checking to ensure that it adheres securely. The methods they use ensures the installation of your luxury vinyl tile or plank is pleasing to the eye, as well as durable for the feet. Professional installation stands the tests of traffic and time so you can live on your vinyl floors for many long and happy years.


Luxury Plank Flooring with Realistic Appeal of Wood
Luxury plank flooring offers all the appeal of hardwood flooring, but with high-performance materials. Browse our selection to see how realistic this flooring looks. You can see grain, knots, and whorls – just like with real wood. One of the beauties of vinyl plank is found in its easy care. All you have to do is sweep and damp mop for your flooring to look beautiful.



Contact us today to show your luxury vinyl with all the beauty of ceramic tile or hardwood plank. We proudly serve customers in San Marcos, Carlsbad, Escondido, and Oceanside, California, including ZIP Codes 92024, 92129, 92130, 92067, and 92028.